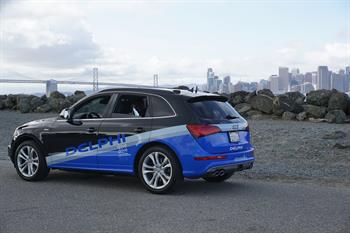 Note: A next post will be on Data-driven Business (with quite some similarity).
Amongst the many milestones in the area of autonomous driving coming from all possible angles we now have the Delphi Drive. From coast to coast in the US, 5500 km self-driving*. At the moment of writing this post we are at the start of day 3 and the car did the first 1200 km without issues.
Delphi Automotive PLC
Delphi is a leading global supplier of automotive technology. It started as the Automotive Components Group of GM in 1994 and was a few years later separated as a fully independent publicly held corporation. Headquartered in the UK. Although big (globally 160,000 employees) and strong in parts and electronics they are not yet particularly top players in the field of autonomous driving assists. Only the radar/camera setup on the 2016 Volvo XC90 is from Delphi. This trip is designed to test and demonstrate Delphi's technology capabilities.
Delphi Drive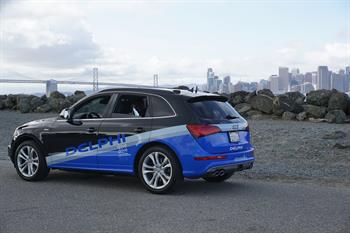 A team of engineers and the Delphi Drive autonomous driving vehicle will cross the US. They started last Sunday March 22, 2015 near the Golden Gate Bridge (San Francisco) and aim to be in New York after about 10 days to be in time for a warm welcome at the NY Auto Show (Friday April 3rd through Sunday April 12th). They will make this America's first and longest coast-to-coast drive by an automated vehicle. Delphi wants to prove that self-driving technology can really go the distance by undertaking that most classic of American journeys: a cross-country coast-to-coast road trip.
The Car
The car debuted at CES 2015 (Las Vegas), it's a standard production 2015 Audi SQ5 TDI. Let's say that is not a bad start. It is an All-Wheel Drive SUV with an Intercooled Supercharged 3.0 V-6, Quattro Tiptronic, 254 kW, 650 Nm, 0-100 km/h in 5.1 s, top speed 250 km/h.
On top Delphi equipped this car with a long range radar, four short-range radars (one at each corner), three vision-based cameras, six LIDAR's to map the environment, a high-resolution localization system (GPS) and intelligent software algorithms controlling the full suite of Advanced Driver Assistance Systems.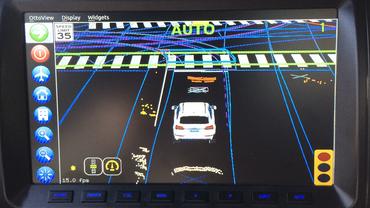 The cars' display shows the virtual environment created by the input from all sensors. Here the "brain" then decides on driving behavior.
The car's brain is a processing unit designed by Delphi and Ottomatika(partner for driving-algorithms). It takes all the data from these sensors and creates a virtual environment from which it can apply programmed driving behaviors. They expect to gather 2.3 terabytes of data from this trip to evaluate and learn.
Legislation & Safety
So far only 4 states (Nevada, California, Florida and Michigan) and Washington DC passed legislation allowing driverless cars for testing on public roads. All states were informed about the unmanned car and its passing through. They all agreed to let the vehicle travel on their roads.
In order to comply with state laws along the way and for extra safety and convenience, there will be a person sitting in the driver's seat, ready to take over if necessary. The human driver might also take over in order to make a course change, such as to get gas or food or go to the bathroom.
The trip can be followed on https://twitter.com/DelphiAuto