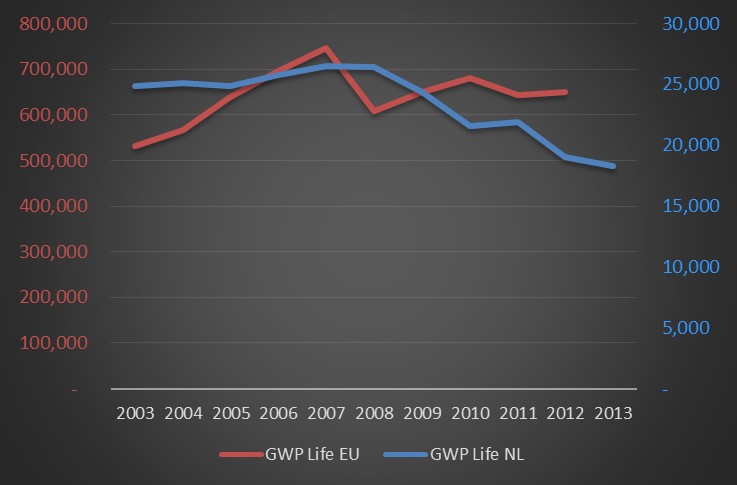 More pressure on Dutch life-insurers. Was my blog on 13 November pointing at the (generic) issue of the shrinking car insurance business, yesterday the DNB (Dutch Regulator) published a report that urges Dutch life-insurers to adjust their business models in order to make them future-proof.
In The Netherlands it seems that life-insurance is slowly dying. This is by the way not really an international trend. In some EU countries the premium goes up and in others down. Overall it appears to be stable over the last few years. However Dutch life-insurers seem to get a taste of their own medicine by offering bad products over the past years and there are in the meantime alternatives.
Fact is that in The Netherlands the GWP on life went down over 30% since 2008. With currently € 18.3b premium (coming from € 26.5b) and still 52,000 people employed.
The DNB rightly has concerns about the effects on the long term solvency (the statutory buffer).
My blog from 21 November was about Dutch insurers lagging regarding digital insurance. Adding things up the Dutch insurance industry is sailing towards turbulent waters with a lot of (creative) work to do.