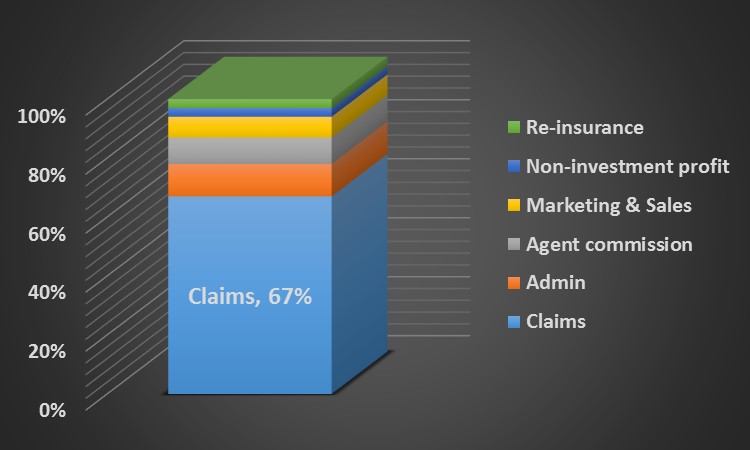 The core of insurance is claims. In Non-Life (P&C) on every € 100 insurance premium paid on average € 67 will be plowed back into payment of the damage (and expenses) for which the premium ultimately was paid. Is € 33 to pay out € 67 sustainable?
This plowing back of the money to the entitled parties takes € 33; one third of the money brought in by the customer.
Of course organizing this money flow cannot be for free (product, legal, risk, conditions, infrastructure, compliance, fraud, re-insurance, profit etc and redistribution of the money). However € 33 cost to pay out € 67 is quite something.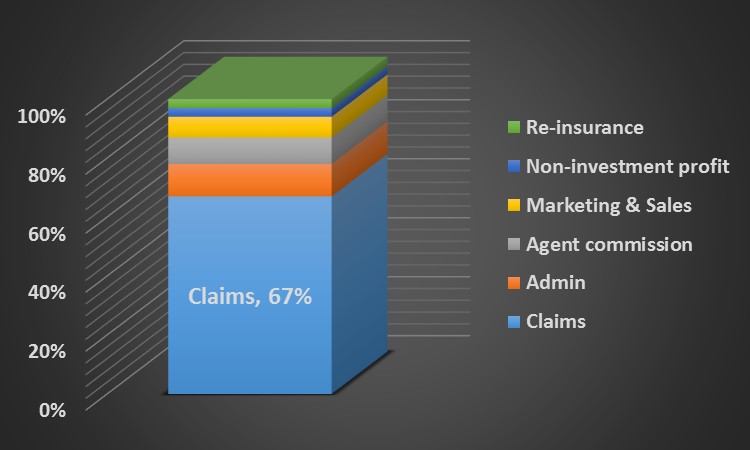 Premium Breakdown
This amount is roughly split into:
Admin
Marketing & Sales
Commissions
Each taking about € 10 with some variation depending on country, culture and type of company. Three components besides claims that are also pretty much in motion.
Admin
The current digitization wave will continue and affect this component seriously.
Commission/Marketing & Sales
The last 3 decades direct business (UK, Direct Line, 1985) and later aggregators (comparison portals) (UK, Confused, 2002) forced to focus on distribution and pricing.
The next decade will bring a new insurance episode. Distribution and comparison will probably not disappear from the table. Disruptive technology, new business models and new entrants will further reduce the need of intermediaries (less commission). However aggregators are taking over the lead in customer touch and seem to evolve from mere comparator to intermediary. This could mean a shift from acquisition costs (marketing & sales) to commission? Or will UBI and/or newcomers change this leading role of the aggregators again? Worth a separate post.
Claims
Claims are going down as from 2010 and will continue to go down in numbers and severity. Although always with the uncertainty of climate change, natural and other catastrophes. On top there is room for cost savings in the claims area. If the 67 goes down the 100 has to go down as well (otherwise 1/3 will even grow).
One third?
If customers feel that 1/3 is too much for paying out the claim and not in line with services rendered, the 100 has to go down even further. Putting more and more pressure on traditional business models. And customers are not happy.
According to the World Insurance Report 2015 (Capgemini and Efma) less than 30% of insurance customers globally are having positive experiences. Around the world positive experience levels for insurance customers have decreased significantly (4% decline over 2013). Of course fuelled by Generation Y (close to 30% of the population) with high digital expectations and open for new and more attractive propositions.